What is a Land Cruiser Heaven Resurrection?
For many Land Cruiser owners, their Land Cruiser is essentially a member of the family. I speak to many customers on a daily basis and I have had the pleasure of hearing the stories when it comes to how they acquired their Land Cruiser.
From being the only owner since new, to it being an inherited item, Land Cruisers tend to be held on to for many years. This was the case for me on a personal level.
My parents purchased our first Land Cruiser in 1992 from a local Houston Toyota dealership, this was when the beloved 80 series initially made its debut. This Land Cruiser saw many winters, and many moves from Texas to Upstate NY to NYC to finally Florida.
She served faithfully our family and to many they learned how to drive in this Land Cruiser including myself. These memories are the reason why Land Cruiser owners decide they just can't let go of their Land Cruiser. Enter Land Cruiser Heaven.
At Land Cruiser Heaven, it is our sole mission statement. Our very existence is prolonging the life of the Land Cruiser thru service, parts, Land cruiser restorations and Land cruiser resurrections. In this particular article, I will discuss in depth what a resurrection is and the hard work involved in taking these 20 plus year old vehicles and giving them new life.
What is a Land Cruiser Heaven Resurrection?
A resurrection is taking a tired and worn-out Land Cruiser and giving it new life. A resurrection typically works better on newer Land Cruisers for instance a 60 series and newer.
Anything older, a full restoration will better serve its purpose. When I compare a resurrection to a restoration, the easiest way to explain it is resurrection is "body-on" and a restoration is "body-off". In a resurrection, we want to baseline the vehicle mechanically and cosmetically.
All our resurrections start with a full inspection.
We perform a 90-point inspection, going thoroughly through the vehicle. This will give us an exact snapshot of the vehicle in that point in time and what we need to do to get it to our resurrection specifications.
The inspection starts with a 3 miles test drive, where we test braking, acceleration, vehicle manners and functionality. The Land Cruiser is then put on a lift and we start our engine inspection.
We check for leaks, worn parts, condition of hoses, filters, belts, and notions of any previous maintenance. We then perform a leak down test and a full compression test to see the internal condition of the motor.
This will allow us to understand further the overall condition of the motor and what steps we need to take to prolong the life.
The next part of the inspection takes us to the condition of the most important part of the truck after the motor, the knuckles and brakes. With the Land Cruiser in the air, we check for play in the knuckles, leaks, and overall condition of brake rotors, calipers and pads.
Knuckles and brakes on a heavy Land Cruiser are pivotal on keeping these on the road. A lot of Land Cruiser owners learn quickly that keeping their knuckles maintained is an important aspect of a Land Cruiser maintenance.
As we continue with our undercarriage inspection, we check all control arm bushings, sway bar links, brake lines, overall frame condition, suspension components, drivelines and rear brakes.
We continue to progress on our inspection.
With all of the exterior cosmetic issues typically found in a Land Cruiser. Normally the years of sun oxidation, the typical parking lot dent, and for those northern trucks, rust.
The interior isn't any different, we check that everything works as it should, from power windows, seats, mirrors to lights and switches. Then we focus on the cosmetic, like seats, carpeting, door panels, headliner, etc.
The inspection tells the whole story of the vehicle and it will be used to create a roadmap to a successful resurrection.
Once the inspection is completed, we share it with the owner. The inspection will have pictures and videos and will allow the owner to see current conditions and will have evidence to back up our findings.
A call then gets scheduled, where we discuss the inspection, and the issues are then prioritized accordingly.
We will then break out the work into 4 phases:
Phase 1 – Engine mechanical work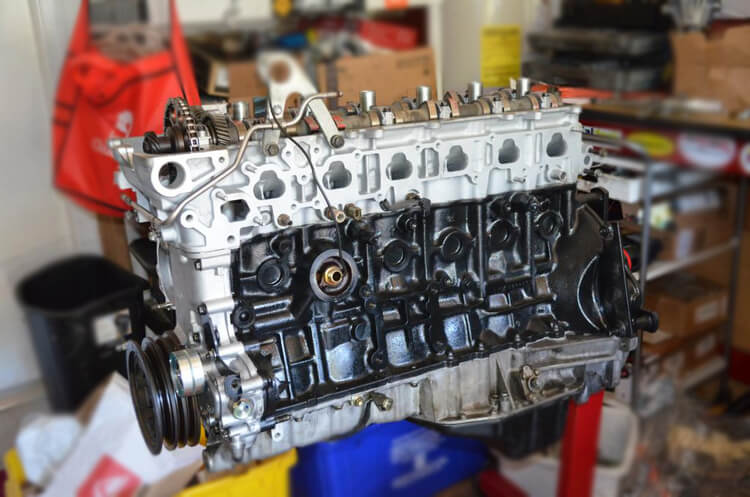 This is work related into baselining and bringing up to spec the engine and its components. Typically includes a complete tune-up, head gasket work or even a full engine rebuild.
Cooling system, HVAC system, Fuel Injection and emissions systems are all serviced during this phase.
Phase 2 – Undercarriage work
Frame protection consists of steam washing and sand blasting the frame and recoating the frame with new chassis paint.
The knuckles, front differential, brakes, control arms, steering linkages, suspension components (shocks and coils) are all addressed.
Rear hub assembly, rear differential, control arm bushings, sway bard links and bushings, brake lines
Phase 3 – Exterior Cosmetic
In this phase all of the dings, dents, scratches, rust and body repair is done.
Customer has the option as to how far he wants to go with the paint according to his budget.
Typically, all new door seals, window runs, weatherstripping are replaced in this phase.
Wheels are powder coated and new tires installed.
Seats and carpet removed, and interior is cleaned in preparation for sound deadening.
All new leather interior, carpeting and steering wheel rewrap is done.
Audio/video upgrade is performed in the form of a new radio, backup camera, door speakers and apple carplay.
All damaged or worn trim is replaced.
Phase 5 – Outfitting (Optional)
This phase is optional, but we install front and rear bumpers, roof racks, storage systems.
Typical Full on Resurrection Timeline (4-6 months)
Week 1 – Inspection
Week 2 – Inspection conference call and scope of work discussion
Week 3 – Estimate creation
Week 4 – Estimate approval and deposit
Week 5-6 – Parts procurement
Week 7-12 – Phase 1 and 2
Week 13-18 – Phase 3
Week 19-21 – Phase 4
Week 22 – Shakedown
Week 23 – Delivery
Though all Land Cruisers are the same, they are different in many ways. Some have had a better life than others, some have had a lot of maintenance done during their life and it may take less work to resurrect than others.
All these factors come into play when it comes to estimating the work in a full resurrection. The good news is that a resurrection is like buffet you can pick and choose what you want done. This gives you tremendous flexibility when it comes to resurrecting your Land Cruiser.
Is my Land Cruiser a good candidate for a Land Cruiser Heaven Resurrection?
I get this question all the time and its one of the hardest ones to answer. This really depends on what your Land Cruiser means to you. Is it just a truck? Or are their great memories in this Land Cruiser that are worth remembering and passing down to your kids?
Whatever the reason, resurrecting a Land Cruiser has become a wise choice. With the resale value in Land Cruiser's going up fixing them up can be seen as an investment rather than an expense.
Chances are if you own a Land Cruiser you know what you have and understand the utility, they bring in with any use. So, if you are considering resurrecting your Land Cruiser, check out Land Cruiser Heaven, we would love the give your Land Cruiser a new look on life!!!